Tanda-tanda Resesi yang Perlu Kamu Tahu, Indonesia Masuk?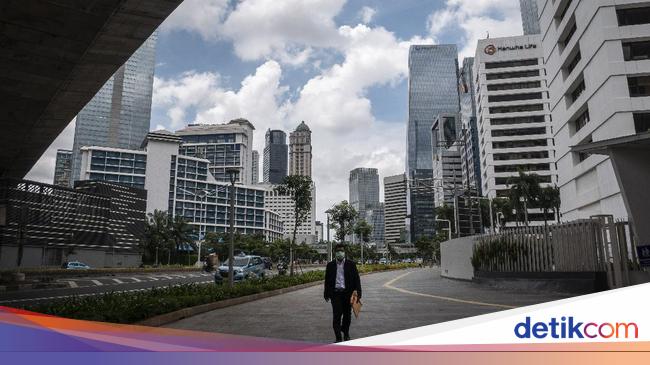 Jakarta –
Pertumbuhan ekonomi Indonesia pada kuartal II atau April-Juni 2020 diproyeksikan banyak pihak akan negatif. Jika hal itu benar terjadi dan berlanjut hingga kuartal III maka Indonesia memasuki jurang resesi ekonomi.
Ada beberapa tanda atau indikasi yang dapat dirasakan oleh masyarakat ketika perekonomian Indonesia mendekati jurang resesi. Menurut Menurut Direktur Eksekutif Institute Development of Economic and Finance (Indef) Tauhid Ahmad, yang mudah dirasakan adalah menurunnya pendapatan masyarakat.
"Secara umum banyak sekali pendapatan masyarakat yang memang turun drastis dan belum pulih. Nah kondisi yang belum pulih ini ditandai oleh apa? Misalnya mereka sekarang masih susah mendapatkan lapangan pekerjaan baru, itu yang jelas," kata dia saat dihubungi detikcom, Rabu (15/7/2020).
Lalu yang kedua adalah laju pemutusan hubungan kerja (PHK) masih berlanjut, serta belum adanya kepastian kapan pekerja yang dirumahkan bisa mulai kembali bekerja.
"Itu tanda-tandanya tuh. Artinya kan begini, kalau yang belum bekerja, pabriknya itu belum ada peningkatan produksi, belum normal. Artinya mereka belum masuk ke pabrik, masih dirumahkan. Yang PHK-nya juga sama, malah bertambah," ujarnya.
Lalu indikasi yang ketiga adalah bantuan soslal (bansos) kepada masyarakat masih terus berlanjut.
"Yang kemudian dirasakan masyarakat juga adalah bantuan sosial itu masih relatif diberikan. jadi selama masih ada bantuan sosial berarti kita ekonominya masih rendah lah," jelasnya.
Hal senada disampaikan oleh Ekonom Center of Reform on Economics (CORE) Yusuf Rendy Manilet. Menurut dia tanda-tanda Indonesia mendekati ancaman resesi adalah menurunnya daya beli masyarakat.
"Kalau masyarakat menengah ke bawah, resesi itu bisa jadi ditandai dengan pendapatan yang semakin berkurang, dan kemudian mereka harus menggunakan tabungan untuk misalnya memenuhi kebutuhan sehari-hari. Nah itu menurut saya salah satu indikasi kuat bahwa daya beli masyarakat sedang berkurang," jelasnya.
Sementara untuk kelas menengah ke atas tanda-tandanya agak berbeda. Mereka cenderung menahan pengeluaran untuk investasi dan memilih menyimpannya.
"Nah dari dua indikasi ini, dari dua kelas masyarakat berbeda ini sebenarnya ada memang kecenderungan ke sana bahwa Indonesia perlu waspada terhadap masuknya ke jurang resesi," tambahnya.
Simak Video "Terpukul Virus Corona, Ekonomi Jepang Menuju Jurang Resesi"
[Gambas:Video 20detik]
(toy/eds)