Eko Yuli Persembahkan Emas Keenam untuk Indonesia di SEA Games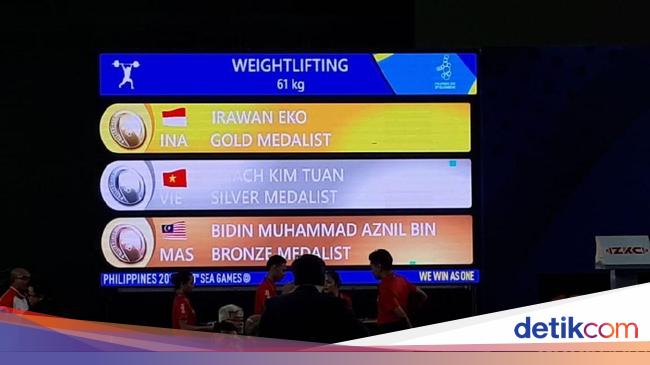 Manila – Eko Yuli Irawan menyegel medali emas dari angkat besi di kelas 61 kg putra SEA Games 2019 Filipina, Itu menjadi koleksi emas keenam miliknya.
Eko menunjukkan penampilan terbaik dalam perlombaan di RMSC Ninoy Aquino Stadium, Senin (2/12/2019), Manila. Eko, yang tampil dengan berat badan 60,74 kg, membuat angkatan total 309 kg, dari snatch 140 kg dan clean and jerk pada 169 kg.
Saat tampil di panggung, Eko menunjukkan nyali sebagai lifter kelas dunia. Dia mengawali langkah di angkatan snatch 135 kg, namun kemudian dia berhasil menyelesaikan pada percobaan kedua. Spekulasi untuk menambah beban hingga 5 kg berbuah sip.
Begitu pula di angkatan clean and jerk, Eko tampil percaya diri dengan angkatan 169 kg pada percobaan ketiga meskipun gagal menyelesaikannya pada percobaan kedua dengan angkatan yang sama. Pada percobaan pertama, Eko menebar psywar dengan angkatan 163 kg.

Dia mengalahkan tiga pesaingnya, Vietnam, Malaysia, Filipina, dan Laos. Di kelas 61 kg putra itu, perak menjadi milik lifter Vietnam, Thach Kim Tuan dengan angkatan 304 kg.
Sementara itu, perunggu menjadi milik lifter asal Malaysia, Muhammad Aznil bin Bidin. Atlet angkat besi Negeri Jiran itu membuat total angkatan 283 kg.
Bukan sekali ini Eko menjadi pemilik emas SEA Games. Itu menjadi koleksi keenam lifter asal Lampung tersebut, selain itu dia juga menjadi raja Asia Tenggara pada 2007, 2009, 2011, dan 2013.
Emas Eko Yuli itu menjadi emas kedua Indonesia dari angkat besi, sekaligus menjadi emas keenam Indonesia Merah Putih.
Simak Video "Timnas Angkat Besi SEA Games 2019 Siap Raih Emas"
[Gambas:Video 20detik]
(fem/cas)