[INVITATION] EF COC – Poems of Hopes and Expectations for the Loved One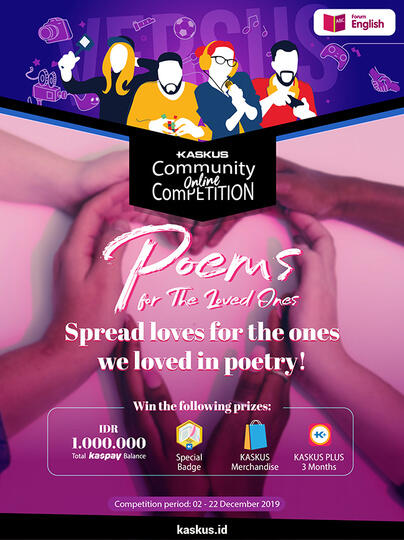 Dalam hidup ini kita pasti pernah jatuh cinta. Namun, mengungkapkan cinta bukanlah sebuah perkara yang mudah, Dan tentunya, kita ingin memberikan sesuatu yang spesial terkait pengungkapan cinta yang sakral tersebut agar menjadi kenangan indah yang tak terlupakan
Nah dalam rangka menyambut tahun baru, English Forum ingin mengajak kalian untuk membangkitkan semangat untuk orang-orang yang kalian cintai. Kalian bisa menyalurkan ekspresi tersebut dalam kompetisi Poems of Hopes and Expectations for the Loved One.
Puisi wajib bertemakan cinta
Puisi wajib menggunakan bahasa Inggris
Puisi terdiri dari minimal 8 baris (2 bait) dan maksimal 16 baris (4 bait)
Puisi merupakan karya asli peserta dan belum pernah dipublikasikan.
Puisi tidak diperkenankan mengandung unsur pornografi, SARA maupun RL Abuse.
Peserta bertanggung jawab penuh terhadap hasil karyanya baik secara moril, materil, dan hukum.
Keputusan dewan juri mutlak, sah & tidak dapat diganggu gugat.
Peraturan tambahan akan di lakukan update sewaktu – waktu.
Peserta membuat puisi sesuai rules diatas.
Boleh juga saling mengquote puisi user lain.
Satu user ID boleh membuat maksimal 3 (tiga) puisi, namun harus di posting secara terpisah (1 post 1 puisi)
Editing diperbolehkan selama dalam masa periode kompetisi.
Posting reply di thread induk dengan format sebagai berikut:
Id kaskus :
Link puisi :
SS bukti follow IG :
Kaskus ID: Fadel999
Poem Link:
Poem Example
SS of Following IG: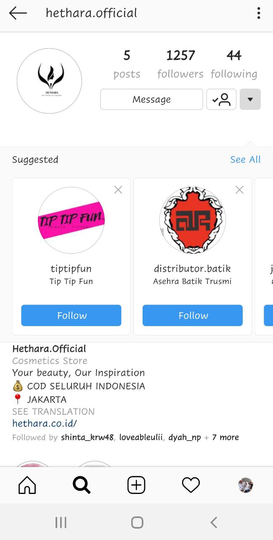 Pengumpulan :
02 – 22 Desember 2019
Penjurian :
23 – 26 Desember 2019
Pengumuman :
27 Desember 2019
– Kesesuaian Tema
– Keselarasan Antar Baris
– Diksi & Pilihan Kosa Kata
– Ketepatan bahasa Inggris
So, tunggu apalagi? Ayo tulis puisi cintamu dari sekarang. Jadikan ungkapan cintamu sebagai sejarah kehidupan yang penuh kenangan.